2017 QV1 Abseil
Rally the support of your family and friends to help you raise money for The Adventurers (The Pirate Ship Foundation Limited) as you do it.

The Adventurers (The Pirate Ship Foundation Limited) works to fund research to find better treatments, and the cure, for childhood brain cancer. We rely heavily on community support, and a large portion of this is from fundraising events and activities involving dedicated people like you. The possibilities are limited only by your imagination so get creative, go over the top and let everyone know that you stand for something!
Superheroes for QV1 Challenge
Are you up for an amazing challenge in early 2017 ? Join 18 year old brain cancer survivor Chloe Clements and Adventurers Ambassador Phil Britten as they take the plunge down Perth's iconic QV1 to raise much needed funds for childhood brain cancer research. Adventure seekers will be able to abseil 40 storeys and 160m off the iconic QV1 building in the city. There is also the option to tackle the thrilling 175m zip line, or do both.
This promises to be an adrenaline-filled experience, rest assured that no previous experience is required. The event is tried and tested and run by former SAS operative and expert abseiler Terry Hewett OAM, who has been successfully and safely running similar events across Australia for over 40 years. Terry and his team will provide support every step of the way. (including a practice abseil prior to the QV1 abseil)
Participants in the 27 April event are invited to dress up as superheroes, with a prize on offer for the best costume. The Adventurers also have a fabulous prize of 3 course lunch for 10 at Jojos Riverside Café to the value of $1000 for our highest fundraising team to celebrate in style!
This is a once-in-a-lifetime opportunity to see the city from an alternative perspective and the money raised will make a real difference to the outcomes for children with brain cancer. Anyone aged 16 and over can take part and training will be given prior to the event.
Registration cost is $530 directly payable to Urban Decent. Minimum fundraising target $1000 per person.
Friends and family are very welcome to come along on the day and watch you from the ground.
We look forward to your support. Register by 7 April by visiting urbandescent.org.au or contact angela@theadventurers.com.au for more information.
---
What we will gain from your fundraising efforts is invaluable, and for that we cannot thank you enough!
Raised so Far
$0.00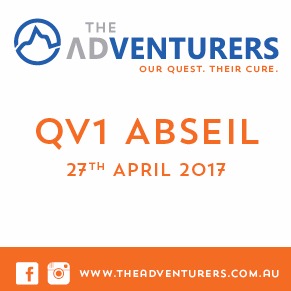 $0.00